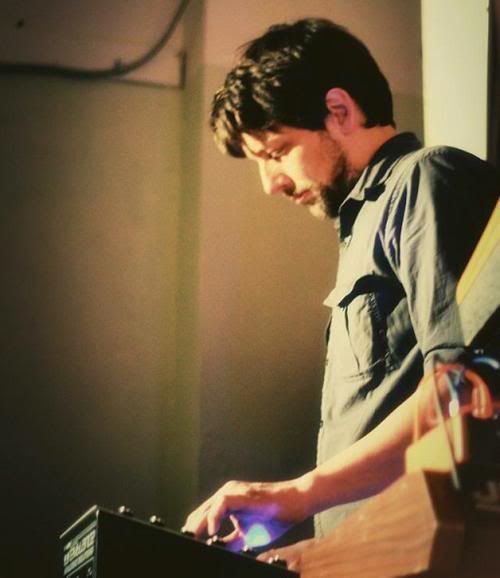 Panabrite (Seattle keyboardist Norm Chambers) works in the hazy, analog-synth-laden zone between kosmische drift and new age waft. Such artists tread a fine line between sublimity and schmaltz, but Panabrite confidently steers his armada of tones to the former state. On releases like Contemplating the Observatory and Wizard Chimes, Panabrite launches beatless symphonies of fibrillating, smeared whorls and drones that make you feel like the star of a weird nature documentary or a sci-fi blockbuster from 1977. Chambers excels at evoking both the intimate and the epic with his scrupulously wrought arpeggios and ostinatos. There's something of Vangelis's grandiose melodic sweep, too, in Panabrite's expansive compositions. One track from Observatory is titled "Shimmering Pinnacles," and it's the truth.
-Dave Segal, The Stranger
I've long been a champion of norm chambers' work as panabrite, as i see him as one of the few people that really "get" the "library music" spec & it's often deceptively simple, yet entirely complex approach to providing sound for any number of programmatic functions ... the fun of course comes when said functions aren't dictated inasmuch as invented ; boosey & hawkes isn't exactly breaking down norm's door for "underwater themes" (even though, obviously, they should be) ... instead, he gets to concoct his own themes and/or imagined use(s) ; witness "beta axis terminal," "glass palace,", "microlife" ; all extremely evocative & so "inside" the whole imaginary world-view of library music that there's really no distinguishing this music, very much made in contemporary times with antique tech, from any number of mid-70's through mid-80's productions (absolutely nothing) ... impeccably made stuff.

... of the throngs currently in direct proximity of a synthesizing object, i rate norm amongst the "inner circle" ; his grasp on not just the freewheeling, commune-dwelling laboratory past of the genre(s) ... but the contemporary way of working with discrete hardware units, making their individual accents mesh together into a whole greater than the sum of its constituent parts, is, well, unmatched by just about anyone else out there ...
-Keith Fullerton-Whitman